As Cloud computing is currently the main trend in IT infrastructure, you can wonder if companies are moving the software applications that they internally developed to the Cloud. The software development magazine Methods & Tools has recently asked its readers if their organization were hosting their software applications on a cloud infrastructure.
The results show a mixed situation. A little bit more than 50% of the participants have started moving their software applications to the web, but only 20% are using the cloud as their only infrastructure. An important minority of the participants have even already analyzed and rejected the idea of moving their applications to the Cloud.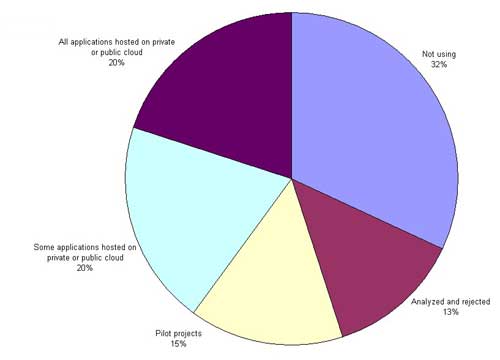 Source: Methods & Tools
Number of participants: 486
Ending date: September 2013
A survey on the same topic conducted this year by RightScale shows numbers that are very similar for our results… except that this survey doesn't have a "rejected" option. This survey also shows that larger companies are quicker to migrate to the Cloud and that they are also choosing more hybrid Cloud solutions.
There are a number of reasons why organizations don't want to move their software application to the Cloud:
* Difficulties to move applications to the cloud. The specificity of the Cloud infrastructure often requires a rewriting of part of the application, for example any interaction with a data storage like in the case of statistics software, big data or data mining. The Verizon survey reveals that " Sixty percent of cloud applications are web-based and Internet-facing. These applications are particularly suited to a cloud environment, as they require proximity to the backbone of the Internet and are cost-effective when managed through the cloud instead of a physical infrastructure deployment."
* Sensitive data and security concerns. Many organizations (banking, insurance, health care. …) manage very sensitive information and are sensitive to the potential risk of having it located on an external Cloud supplier location.
* Lack of competencies to manage Cloud infrastructures. As a new technology, Cloud infrastructure is still evolving rapidly and is considered complex to manage. This is even truer for organizations that would like to implement a private Cloud and have difficulties recruiting employees to build and manage it.
* Difficulty to value the economic benefits of the Cloud. Public Cloud pricing models are complex, involving factors like CPU, storage, database or data transmission usage. It could be therefore difficult for many applications to compute their current cost and how much it will cost to be hosted on a Cloud infrastructure.
We have to remind that as in all major IT trends, most of the data about Cloud adoption is supplied by new technology vendors that have an implicit bias in showing high adoption rate, because they want to sell more items or because the participants to the survey are partly found in their own customers. Cloud infrastructure is certainly a valuable solution in a web application context where scalability is an important factor or infrastructure management capabilities are missing. For larger companies with more complex IT needs, the transition to the Cloud will be longer and more delicate to achieve.

References
* RightScale 2013 State of the Cloud Survey
* Verizon 2013 State of the Enterprise Cloud Report
* Everest Group Enterprise Cloud Adoption Survey 2013
* 2013 Future of Cloud Computing Survey
* Breaking through the cloud adoption barriers